Post by Ziggy on Feb 17, 2016 0:32:39 GMT
I started my dreads right after Christmas, 2010. I did twist and rip, but just a little, my hair is silky and fine and I wanted the sections to stay. I used backcombing on the first few inches to rough it up enough to take the t&r. I've wanted dreads for fully 20 years, I only regret that I waited so long!
Pre dreads: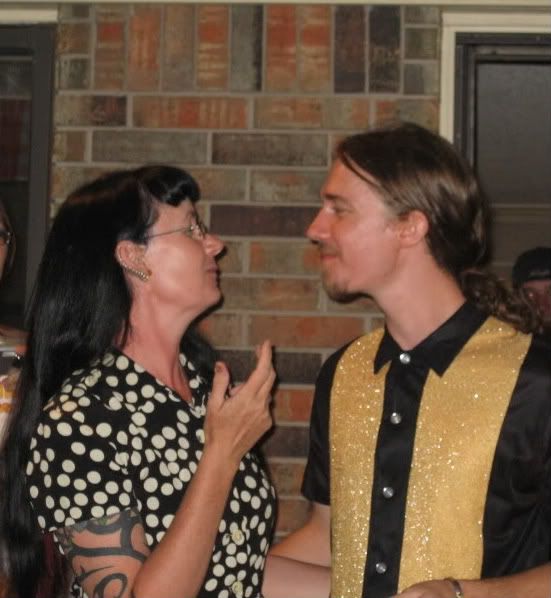 A few days after finishing the T&R:
One month:
I dyed the ends dark and bleached the tips at two months:
This is a HORRIBLE photo of both of us. We don't look like this. But I wanted to show how stringy my hair was at two months: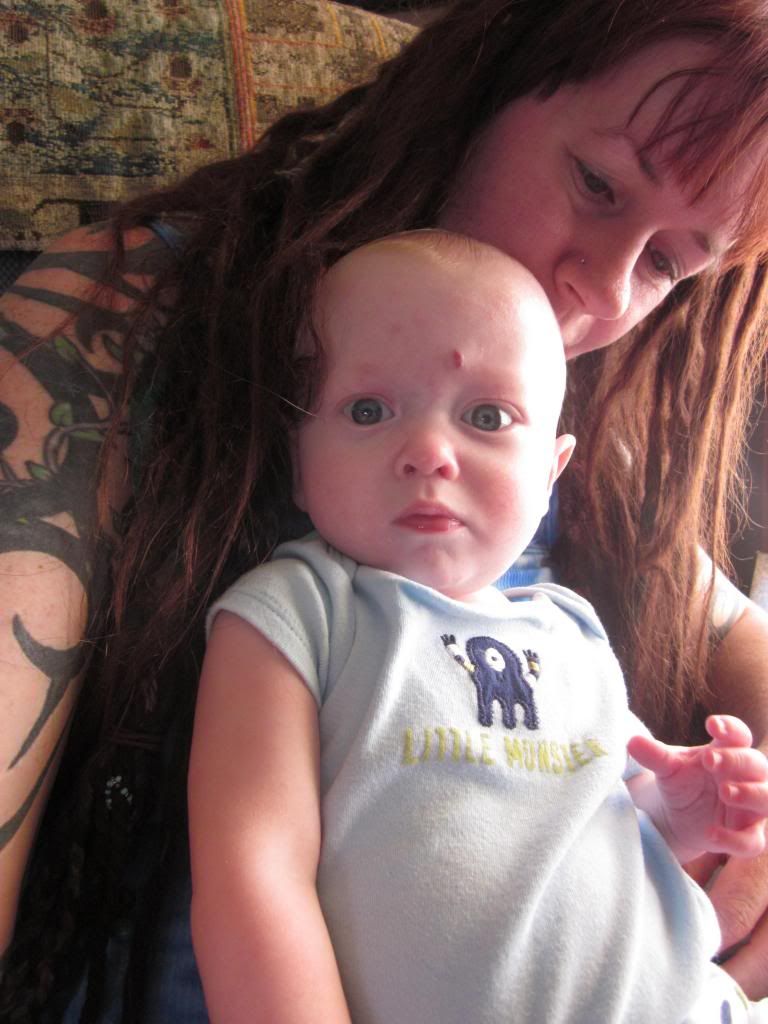 Three months; I was just photographing my wraps and favorite bead but I'll post them in here in case I don't get around to taking an overall photo again.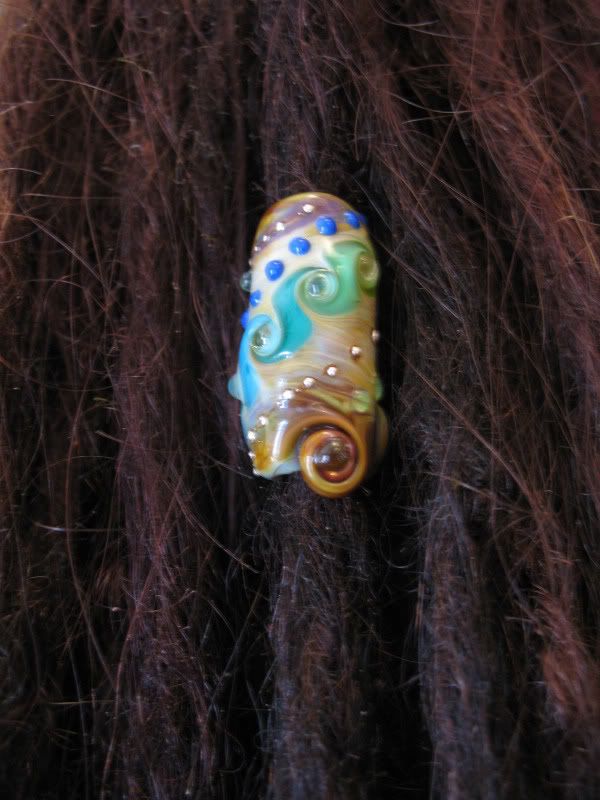 Four months, it's really fluffing out: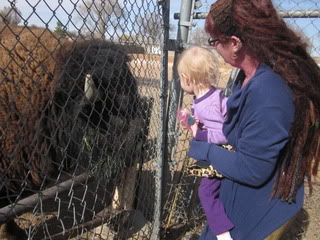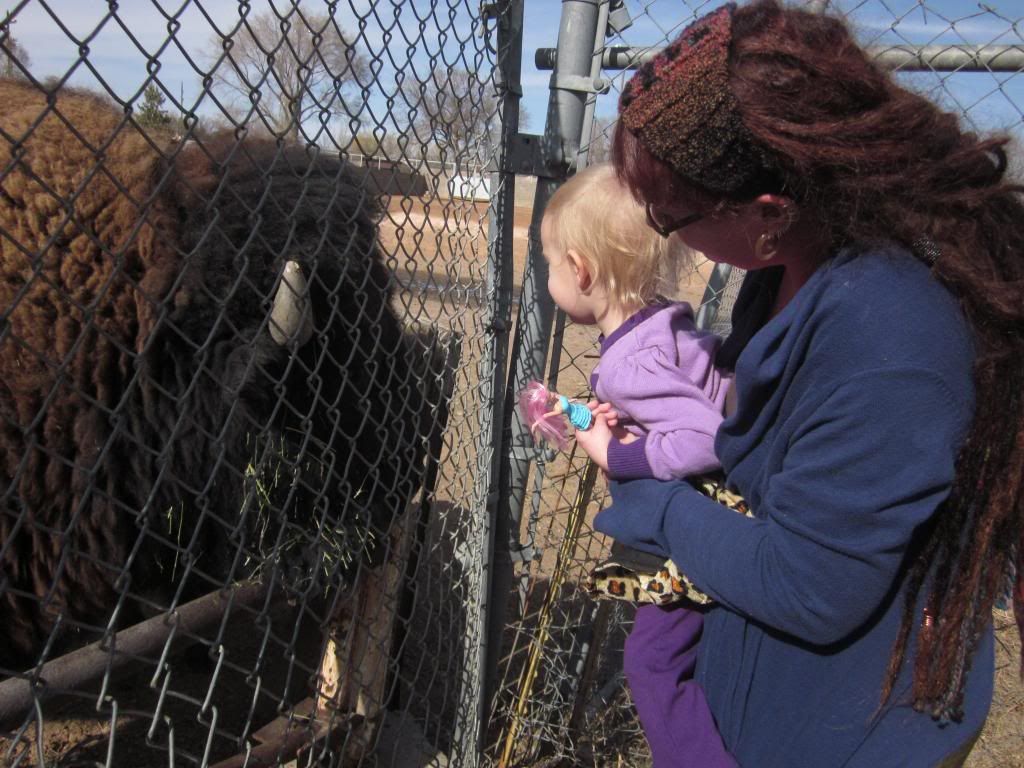 Five months. From ears to crown it's super loopy, will try to get a photo of that. The rest is locked up smooth, getting hard, taking forever to rinse in the shower.
Five months, dye job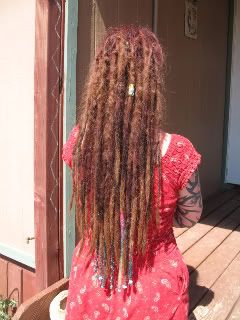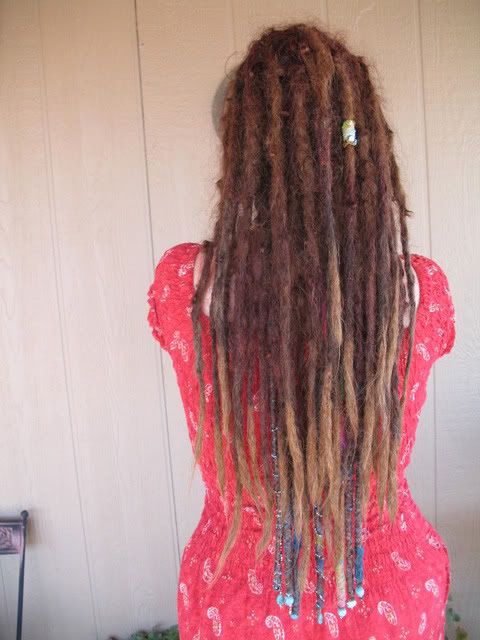 Six months. I've trimmed about three inches off the wraps, before dreading they were the same length as my hair. Two big glass beads now.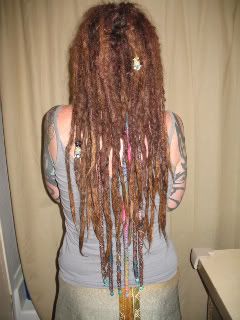 So I've been lax (too damned busy with two toddlers) to do real photos, but here are a few new ones from last week. Ten months. My hair has shrunk massively, started at my hips. Still shrinking, my dreads were very thin so they are doubling over in many spots. It's fantastic, very thick on top now when I've always had super thin hair. Mostly hard as a rock. The very thin spots that I mentioned months ago are where most of the doubling is happening.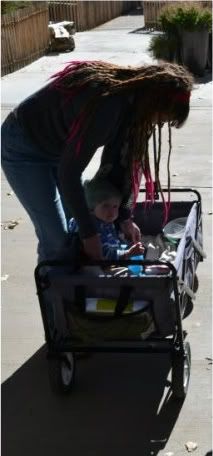 ONE YEAR! Wooohooo! Still lots of loops but they are tiny little sticky outey things everywhere. A lot of thickening, more loss of length. I conditioned them this week and they are all soft and silky again. Yum!
22 months: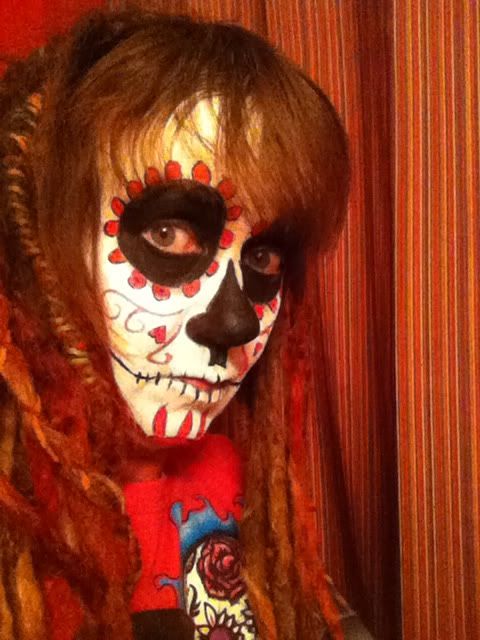 2 years, I took this photo to compare to the incredibly thin dreads in my 3 month picture: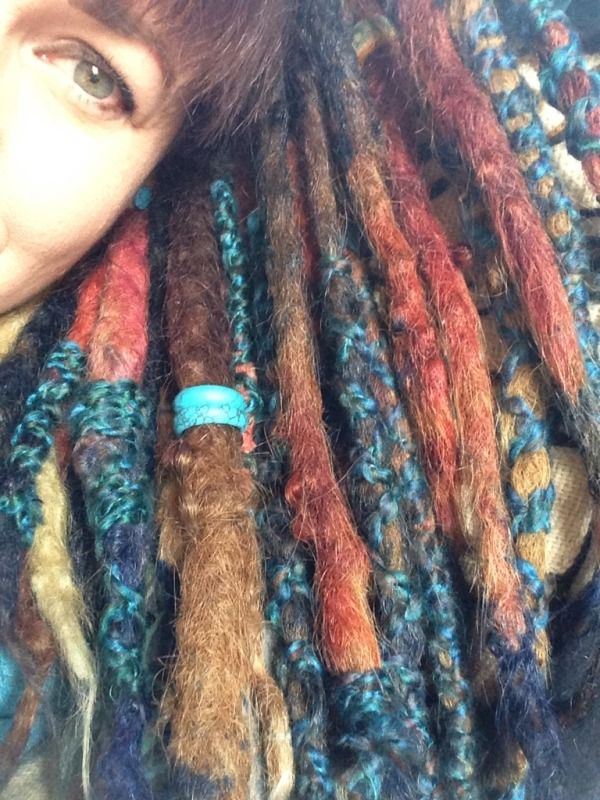 And the whole thing, check out the loss of length:
2.5 years
A few months short of three years: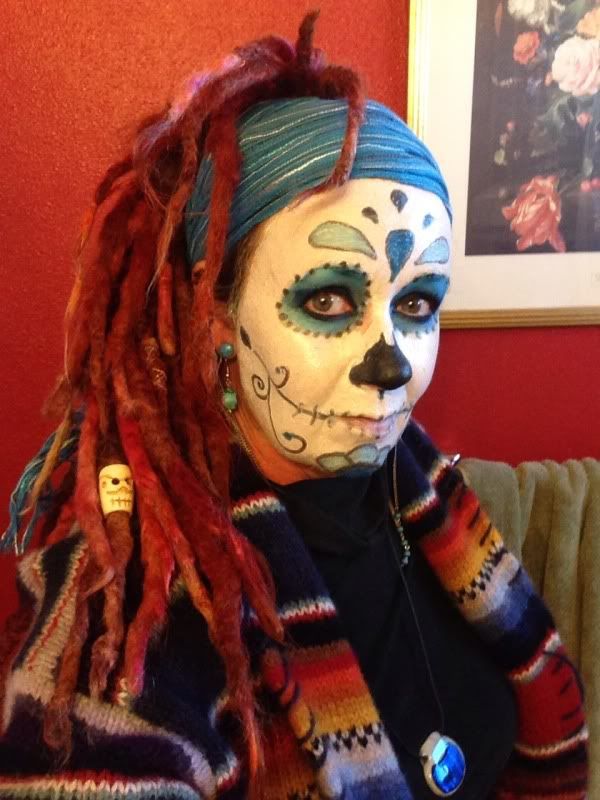 THREE YEARS!!
Three and a half years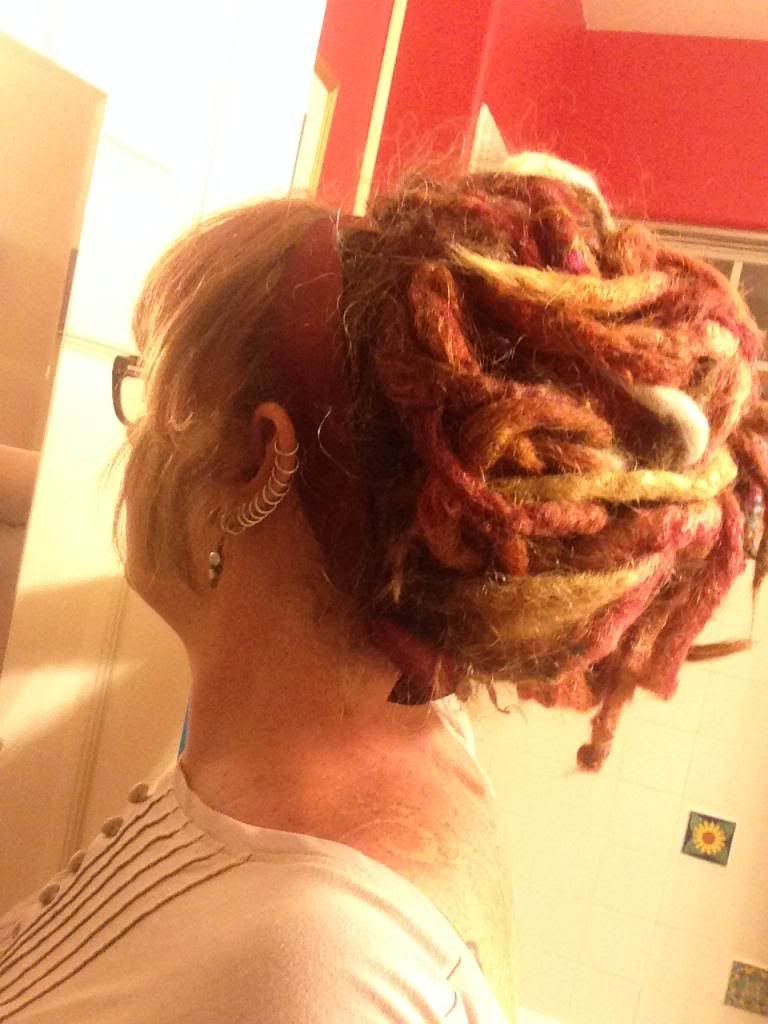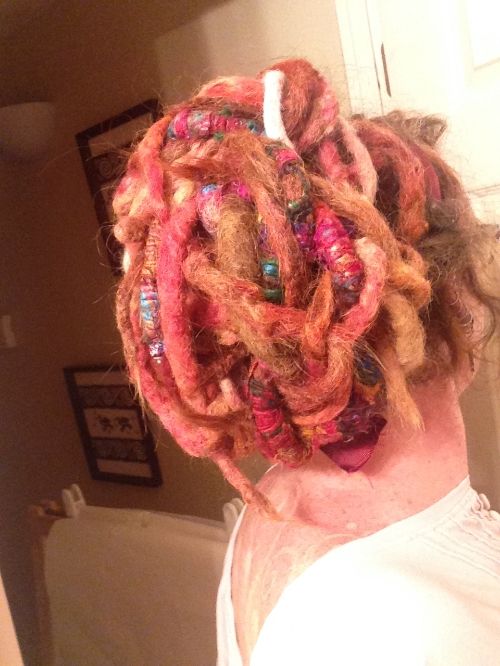 A few photos from years four, five and six, in order...I haven't updated in forever! I'm sorry that I don't have official hair photos, these are the ones that show my dreads the best.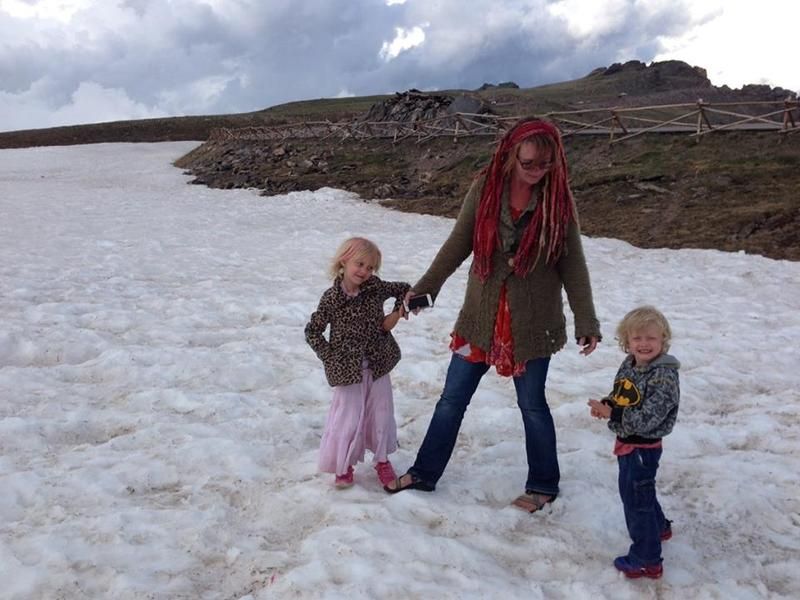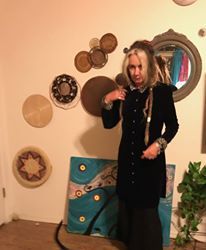 I'm trimming the ends about every three months, have been for almost two years. They just get too heavy, as it is, when I shower, I have to hold them up while I rinse or it hurts. The last photo doesn't show my hair great but it's there to show my favorite dread. Like many, I wanted multiple thin ones, and everyone here said "you'll end up with one fattie and it will be your favorite." Yup, it was true. I've cut a good six inches off of that one, but it gets the best beads and usually lives up front. A friend named it this summer, that's the dreaded Rapunzel.