Post by SketchyMagpie on Jun 27, 2015 12:05:38 GMT
Can I Dye My Dreadlocks?
Yes, you can but it's slightly different to dying brushable hair. Check out this brilliant guide to dying dreadlocks by Lish:
www.compunction.org/dyeing.txt
---
Can I Extend My Dreadlocks?
Yes, you can! Have a look at Katie's extension tutorial blow for more information.
i have been wanting to extend my dreads for some time now, and now was the time. i do not recommend this tutorial for people whose dreads are under 6-9 months old. you need to have a good base of knots to be able to attach extensions.
WHAT YOU'LL NEED:
human hair (can be purchased if you don't have some)
a sturdy flea comb
a steel crochet hook (1.15-1.5mm)
scissors
dye (if you like)
here is what a weft of human hair extensions look like:
here is what a weft of human hair extensions looks like on my cat:
first thing you want to do is cut a small section of the banding at the top of the weft. the size of the section depends on how large your existing dreads are. estimate and practice to figure out what your sections should look like.
i attached the sections to an old stool using a pushpin, but you could have a friend hold the end or come up with another creative solution to stabilize the end.
backcomb the hair.
palm roll the hair.
do this as many times as you need to do to have enough "new" dreads to extend your old ones. the pile should look something like this.
now it's time to dye them! i wanted platinum ends so i can play with color. i bought two boxes of hair dye: one for my actual hair, and one to dye the "joint" between the old dreads and new dreas.
aim to have the dye cover the entire outside of the joint. don't mash the dye inside the dread.
do this for all your dreads. it will look like this when you are done.
let the dye sit for as long as the box tells you to. then wash the pile of dreads.
they will be fuzzy.
so we will crochet them.
leave the joint uncrocheted, we will want the loose hairs later to crochet into your actual dreads. at this point, you can cut off the weave track and blunt the ends of the dread with your crochet hook.
then carefully crochet the new hair into the old dread. be careful not to break the hairs. when you are done, you should be able to pull on both sides of the joint very hard and not have the dreads separate. palm roll. if you do a good job, the joint should become practically invisible to the eye.
do this for your entire head of dreads.
this is what my hair looks like now!
______
edit.
here is what they look like about a month later, after dying the tips with special effects fishbowl.
______
edit 2.
here is what they look like two months later, after redying the tips, this time with special effects blue mayhem.
---
How Can I Decorate My Dreadlocks?
Beads
Beads are a great and easy way to decorate to your locks! Websites such as Etsy have thousands of unique beads hand-made from a variety of materials with holes large enough for dreadlocks, all by independent artisans. Many forum users are fond of designs by Melissa at FlameTouched Glass over at etsy (https://www.etsy.com/shop/FlameTouchedGlass).
If your dreadlocks are young (less than 6 months) then you should be aware that dreadlocks have been known to consume beads during development. This can happen when your hair is still settling and knotting up in the initial months after starting - it is possible for hair to knot around beads meaning that they are permanently trapped inside the dreadlock unless you cut the hair that has trapped the bead (which will possibly weaken the dreadlock at that point).
Wraps
Another way to add loads of character to your dreads is to wrap them with coloured thread. To find out how to do this, read this guide to wrapping dreads written by Slang.

WRAPPING DREADS
Seriously, I recommend
trying
to get a friend to help out. It's TERRIBLE on your neck and arms. And eyes if you strain to look at what's right in front of your face, oi.
MATERIALS NEEDED:
-Scissors
-Embroidery floss (cotton) or other yarns, string, etc.
-Beads, trinkets, charms, etc. (optional of course)
By the way, I say cotton because it's a natural breathable fiber. Synthetics won't 'breathe' nearly as much... which means that water will take a lot longer to dry out (mold=possibility).
Step 1
Get your stuff! Pick out your colors :]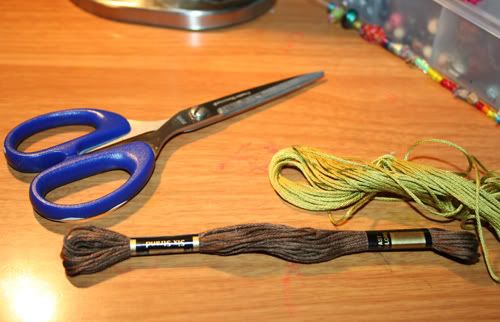 Step 2
Cut out a loooooooong piece of floss.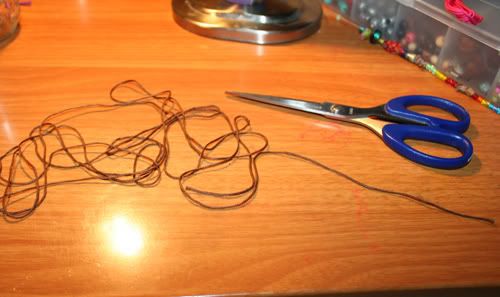 You're going to fold it and do another lark's head knot. This time though, don't fold it in half (well, you can but I don't.. to save string.)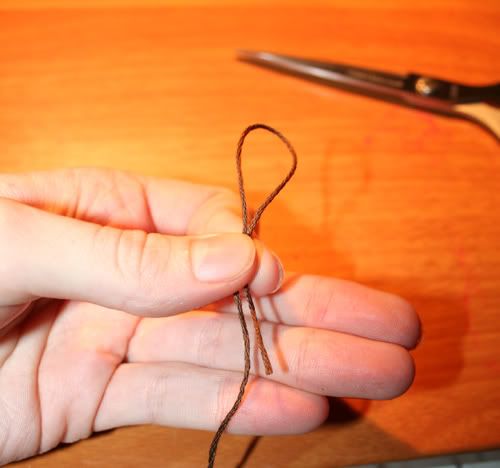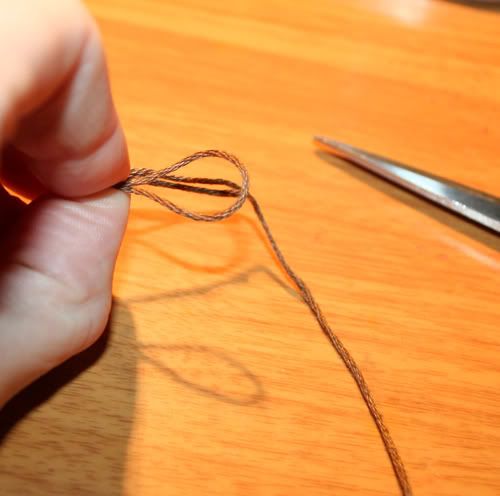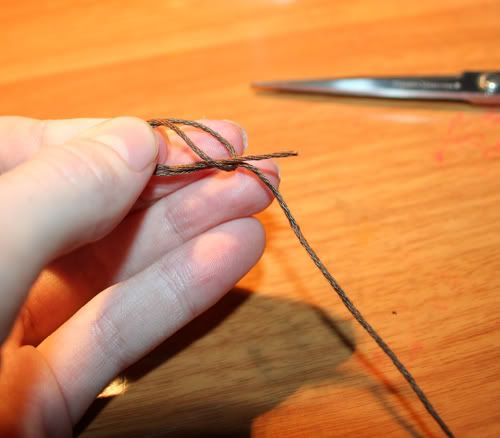 Slip it up the end of your extended dread, and up near the root of your real dread.
I NEVER EVER put wraps too close to my scalp. They always start off an inch or two away from the base of the root, because if you start it off that close you're likely to have a hell of a time getting it out later on. Plus it's painful.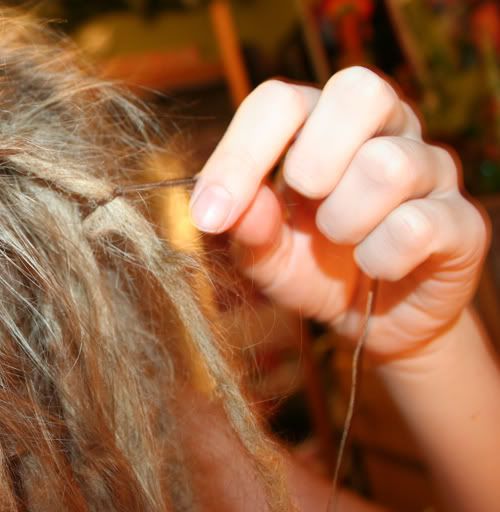 Start wrapping! Which, if you're unclear as to what that means.. It's simply taking the long string and well, wrapping it around and around and around the dread until you reach the end of the string (tie it off the same way as you did with the extension connection!)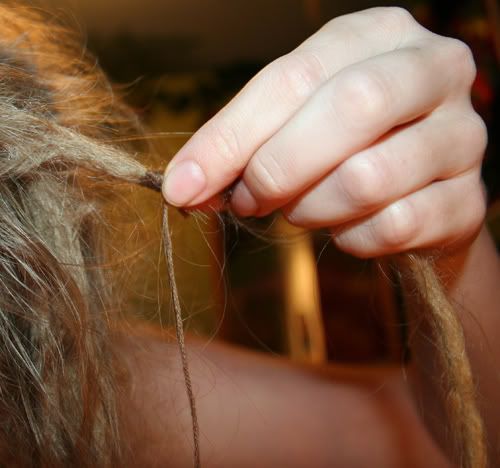 You can use multiple strings to wrap too, different colors to create an interesting mixed look.. or even do big thick 'stripes' of different colors.
If you use multiple colored string on one wrap, there's two ways of doing it:
1.) Start ALL the colors off at the root
or
2.) Do one color, end it, and start a new color of string where you left off at.
If you do #1 you can alternate the colors by 'hiding' some colors by wrapping them like you do the dread, and then having them reappear and hide the previous color.
I hope that makes sense. It's kinda' late, excuse my lame explanations. :\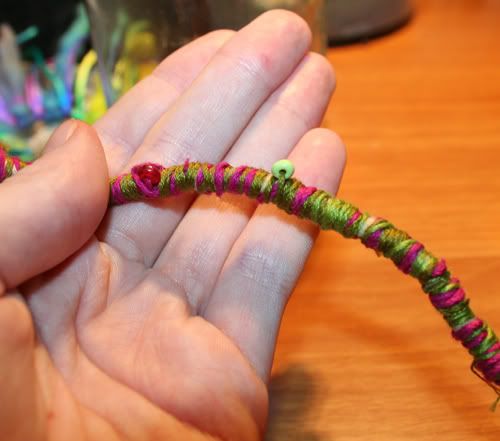 Adding in beads or charms is super easy, just string it onto your floss, scoot it up to where it needs to be, and continue wrapping.
Step 3
Do all the others!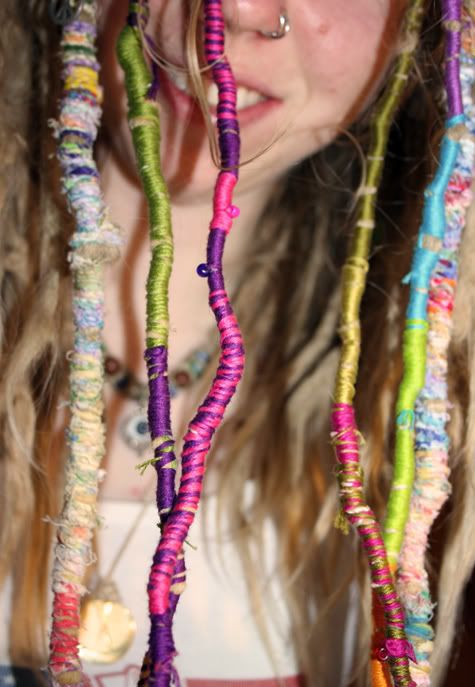 Step 4
Enjoy!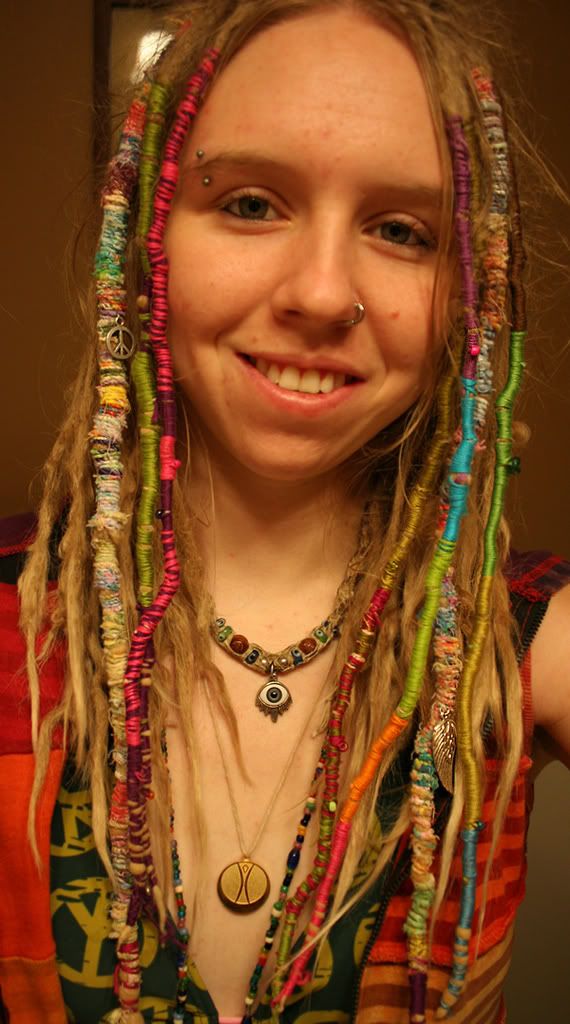 ADDITIONAL NOTES
+ I don't wrap tightly, really, I don't.
Not too loose, not too tight. Find a good middle ground.
+ No, they're not permanent. And not meant to be either.
+ If done correctly, these wraps can stay in for a long, long time. The way that I do these, and the way that I've shown you in this tutorial, allows them to last for months on end. I've gone 4-6 months with wraps in, and never had them fall out too much.
+ Wraps will loosen a bit sometimes, gain some space in between.. It's not a big deal.
+ Yes. You can wash them. Just make sure to squeeze them with a towel to accelerate drying time... and let them fully dry before hitting the showers again.
+ If you choose to add beads, trinkets, charms, shells.. whatever.. make sure you don't put any in such a position to swing and hit you in the eye. It hurts.
+ Embroidery floss generally come in skeins of 8 yards or so. For this project (which I'm still not done with my own hair) I have acquired 125+ skeins.
+ How do you get them out? Either cut the string's tied off ends and unravel them... Or just cut the string at random spots and start pulling it out.
+ Oh. I said I was gonna do some maintenance before I attached the extensions - but I lied. I fail at maintenance and skipped it entirely lol
It is more difficult to wrap when you've got a load of loose hair flyin' around though...